09/04 AMSTERDAM, NL I Will Follow You Into The Dark
We left for Amsterdam on Saturday night and the flight went by in a heartbeat.The Longest Yard. Kicking & Screaming. CSI. Yeah … I'll even watch the Gary Sinise one if I'm buckled in front of a seatback for long enough.
We had the afternoon off, so Lee gave us a walking tour of the Red Light District … which was somewhat less than taboo at 11am on a Sunday. After frites and a nap we met our booking agent, Hans, to pick up our van and rented equipment. We elected to drive ourselves around Europe this time instead of hiring someone to cart us around.
The first night is always the hardest, I think. Sean and I sat in a bar and talked about how much we missed our sweethearts. Sean got an earful.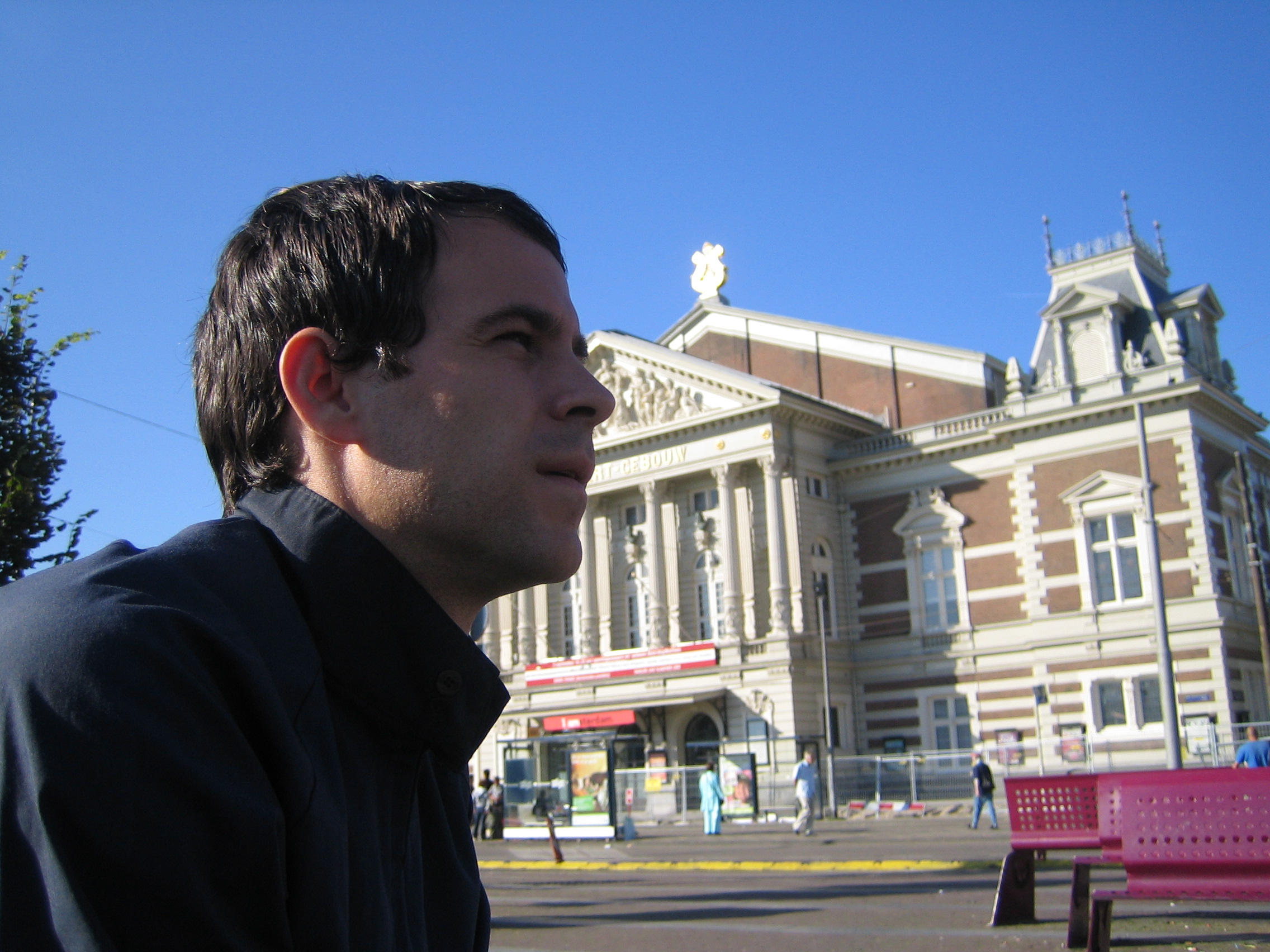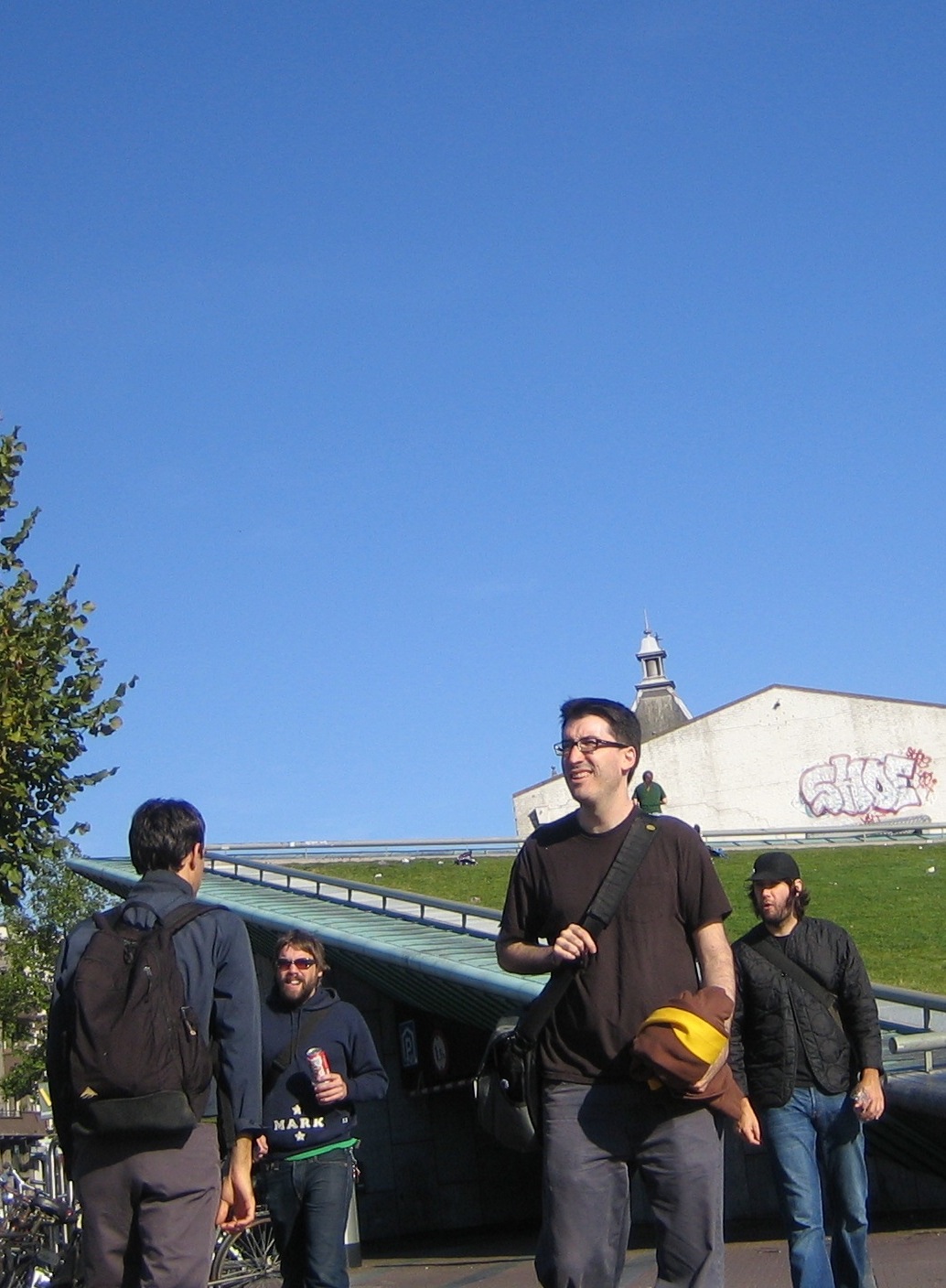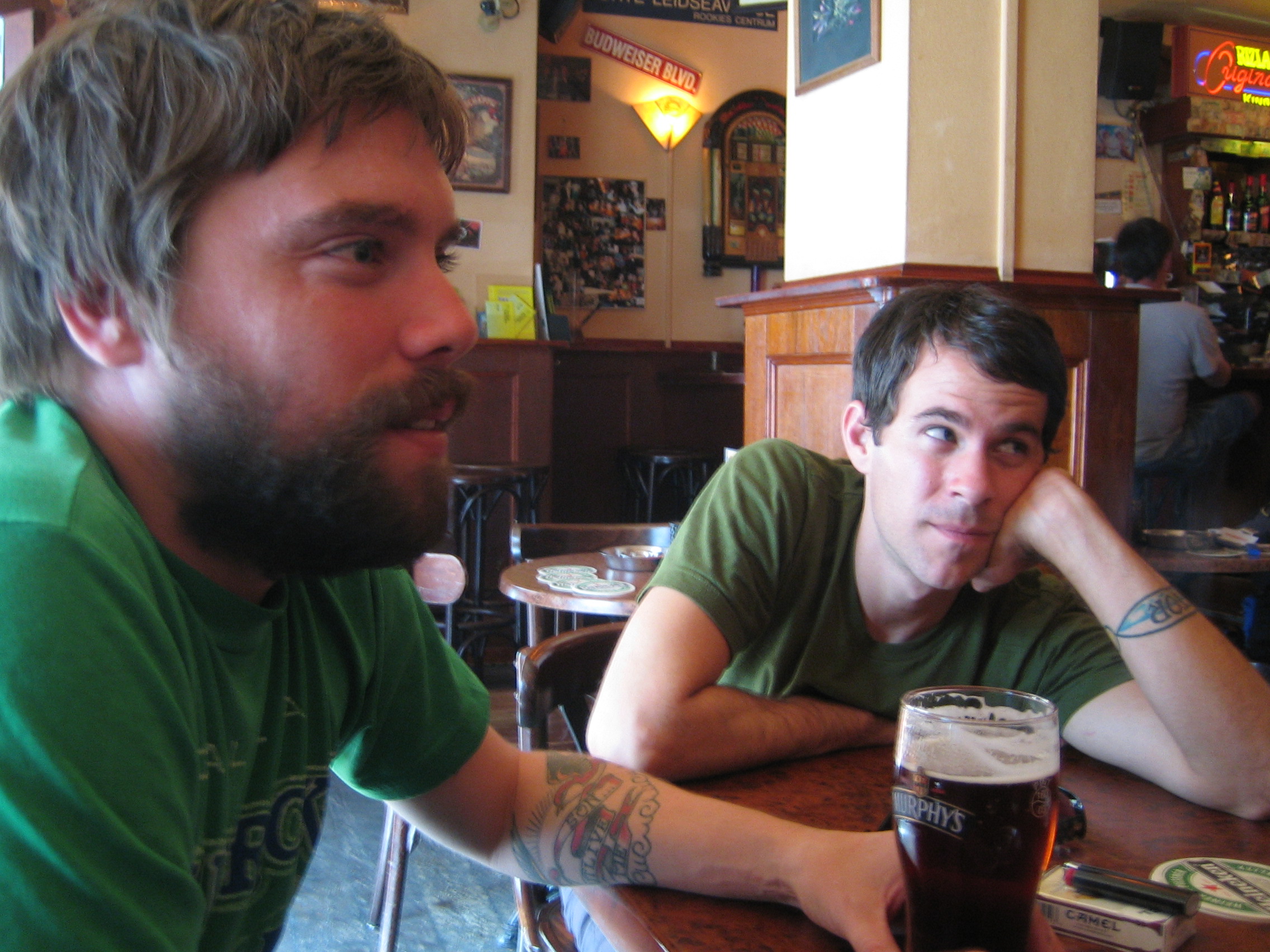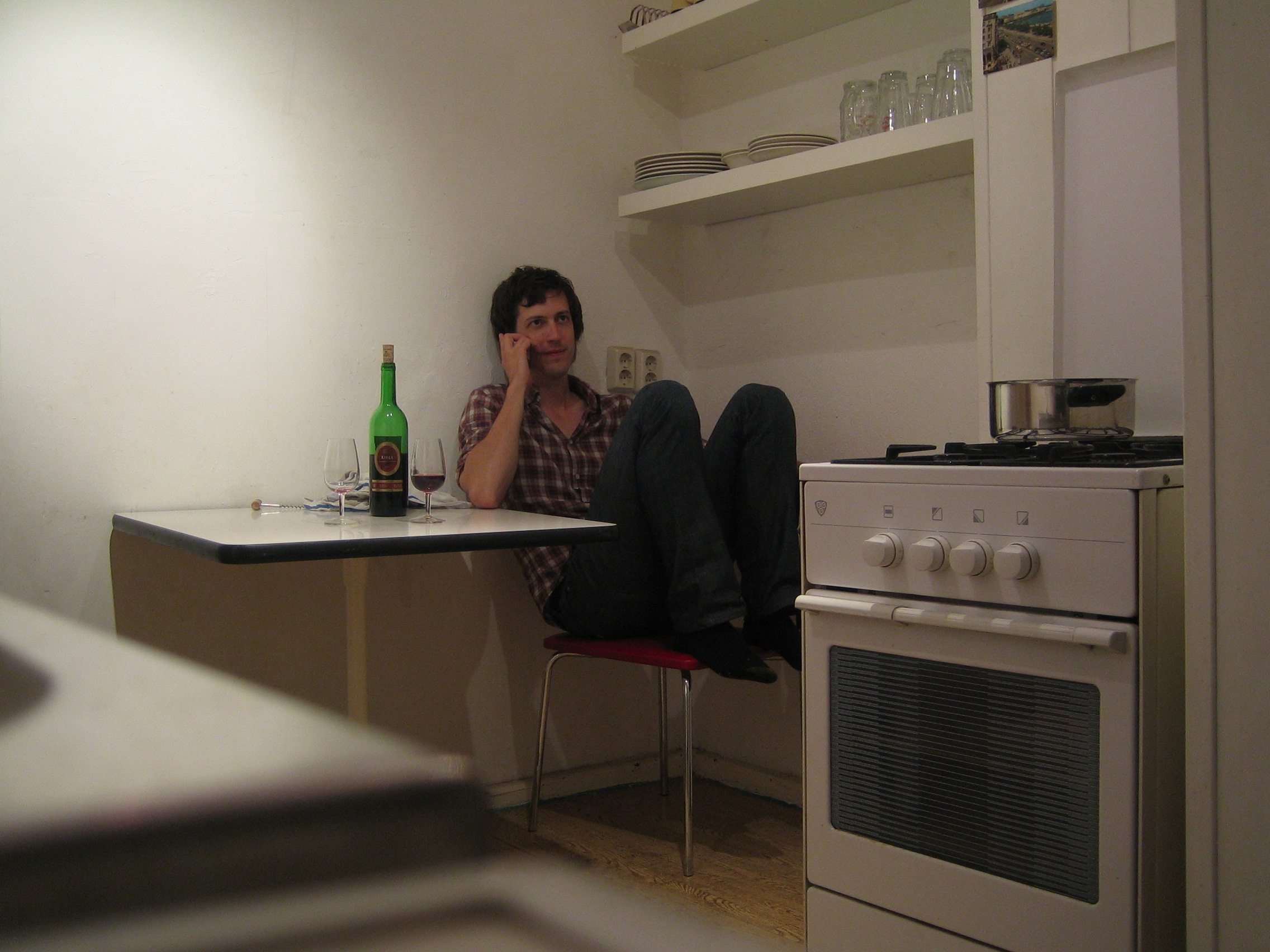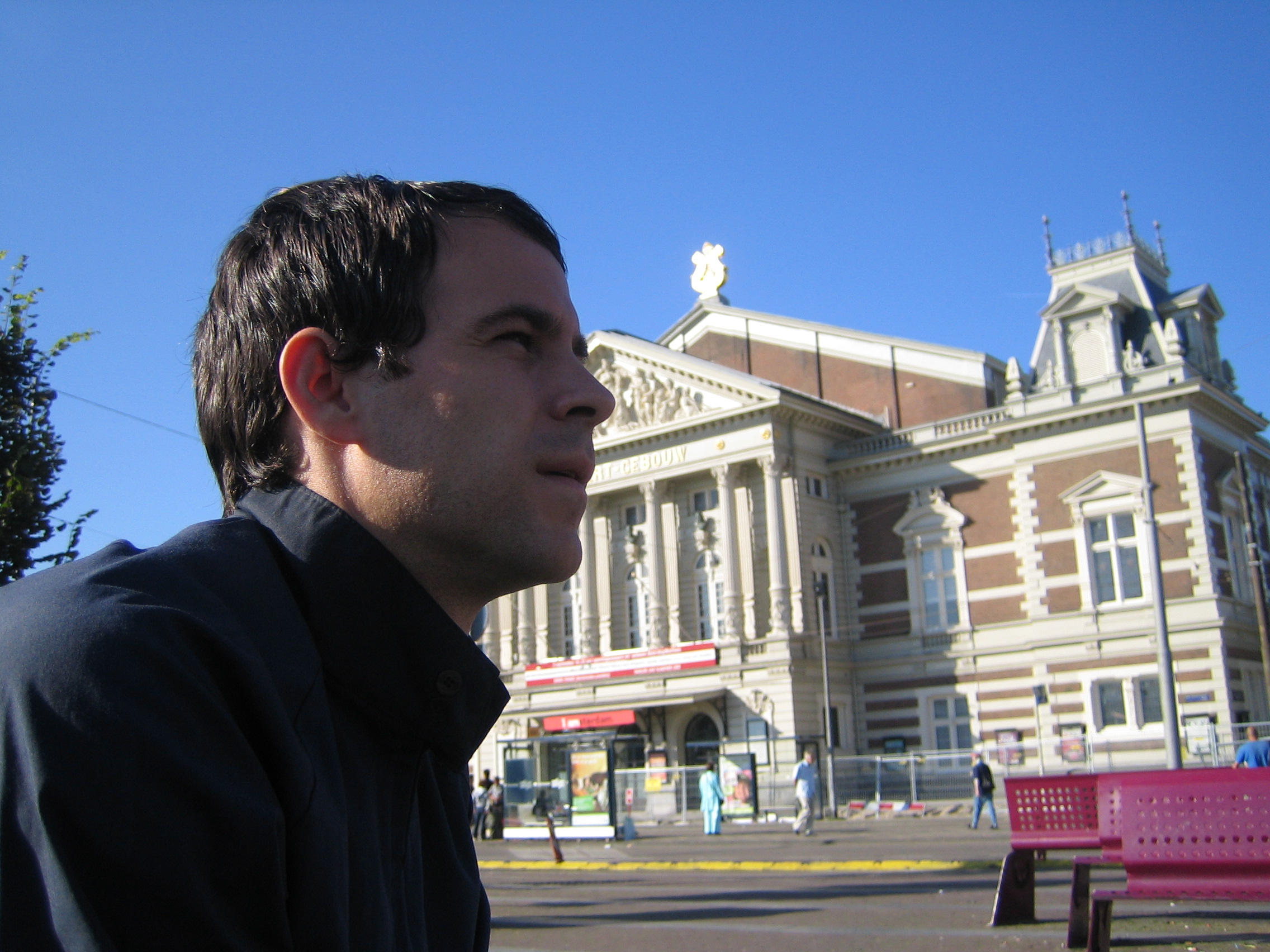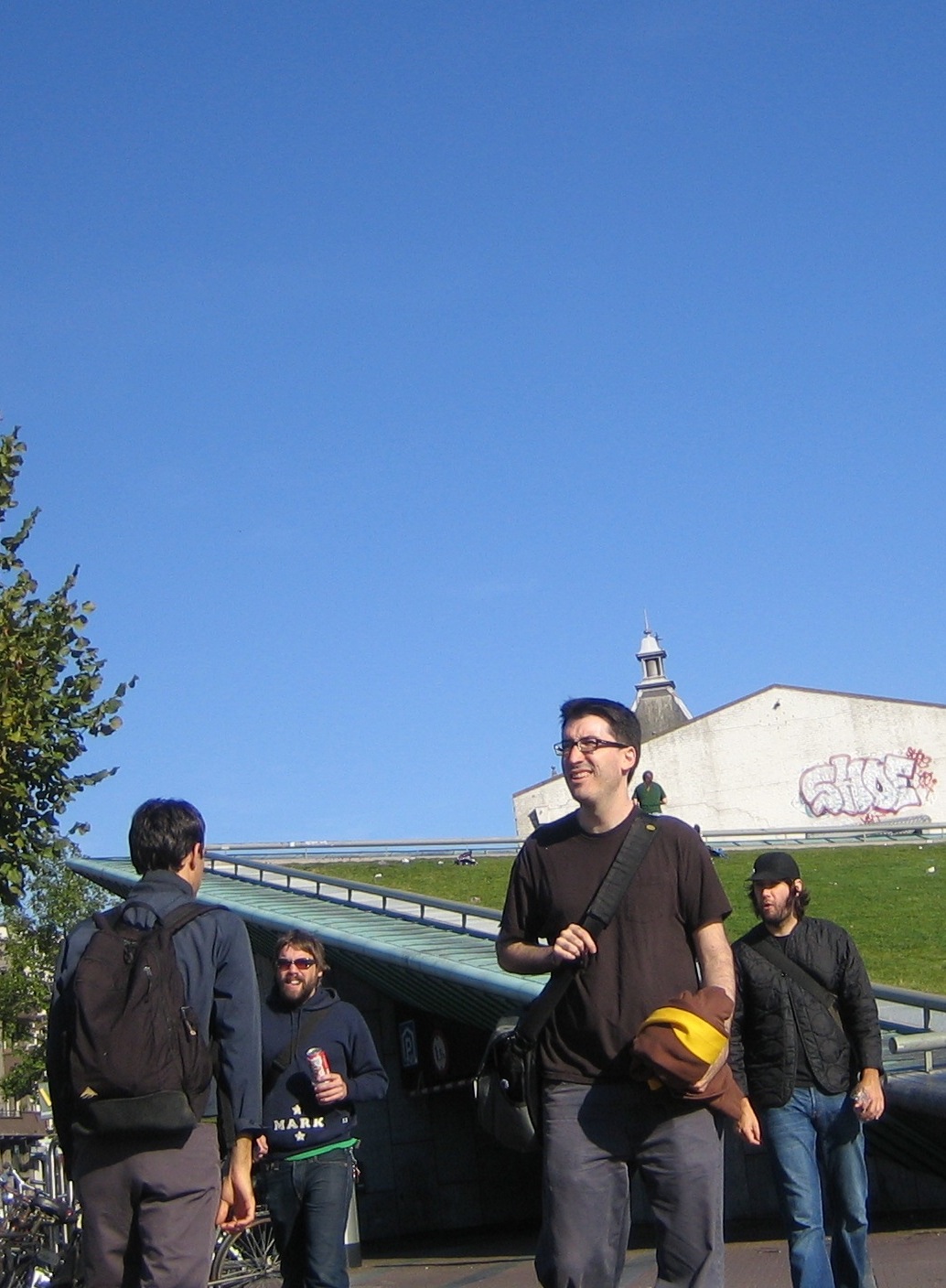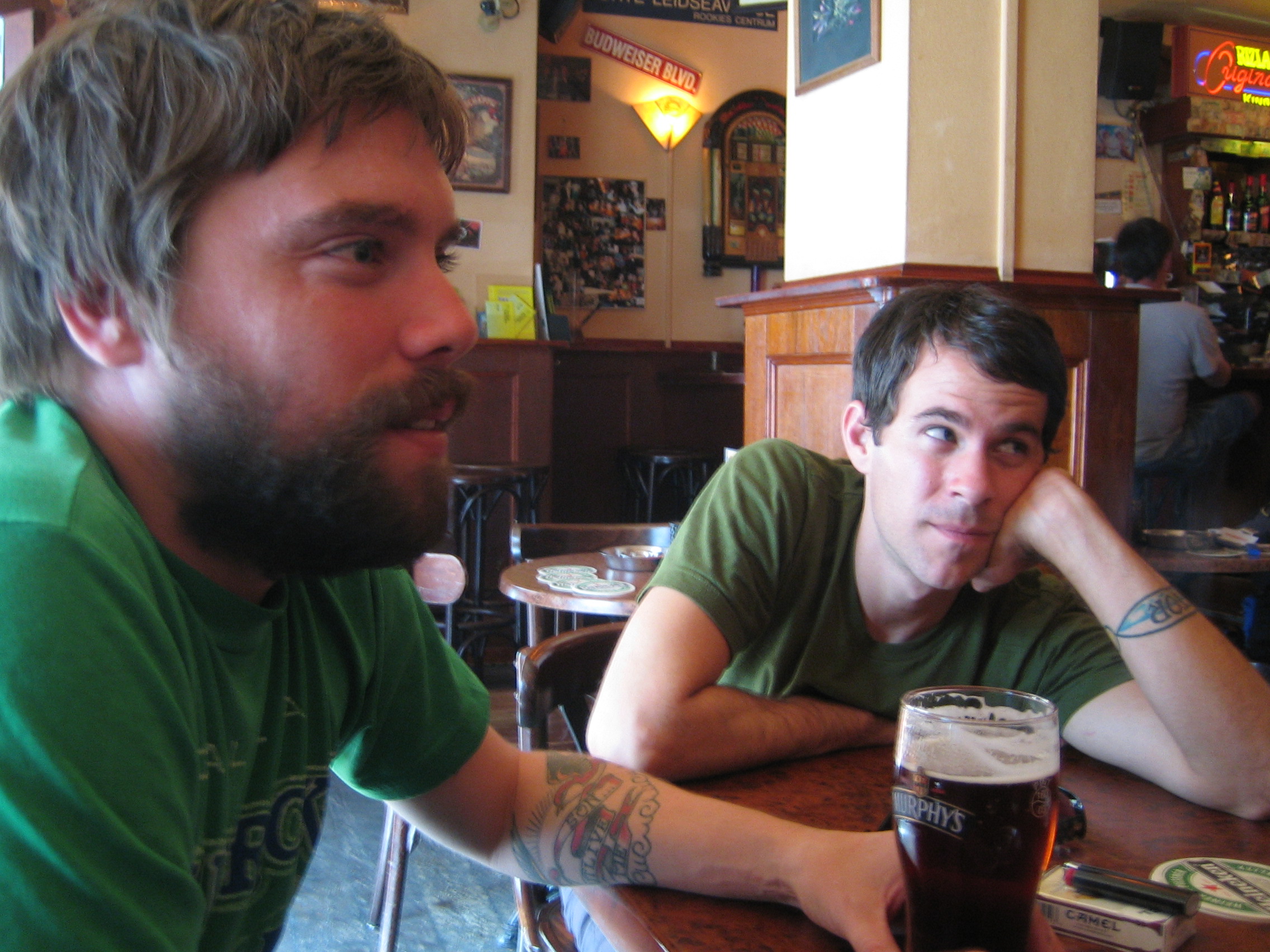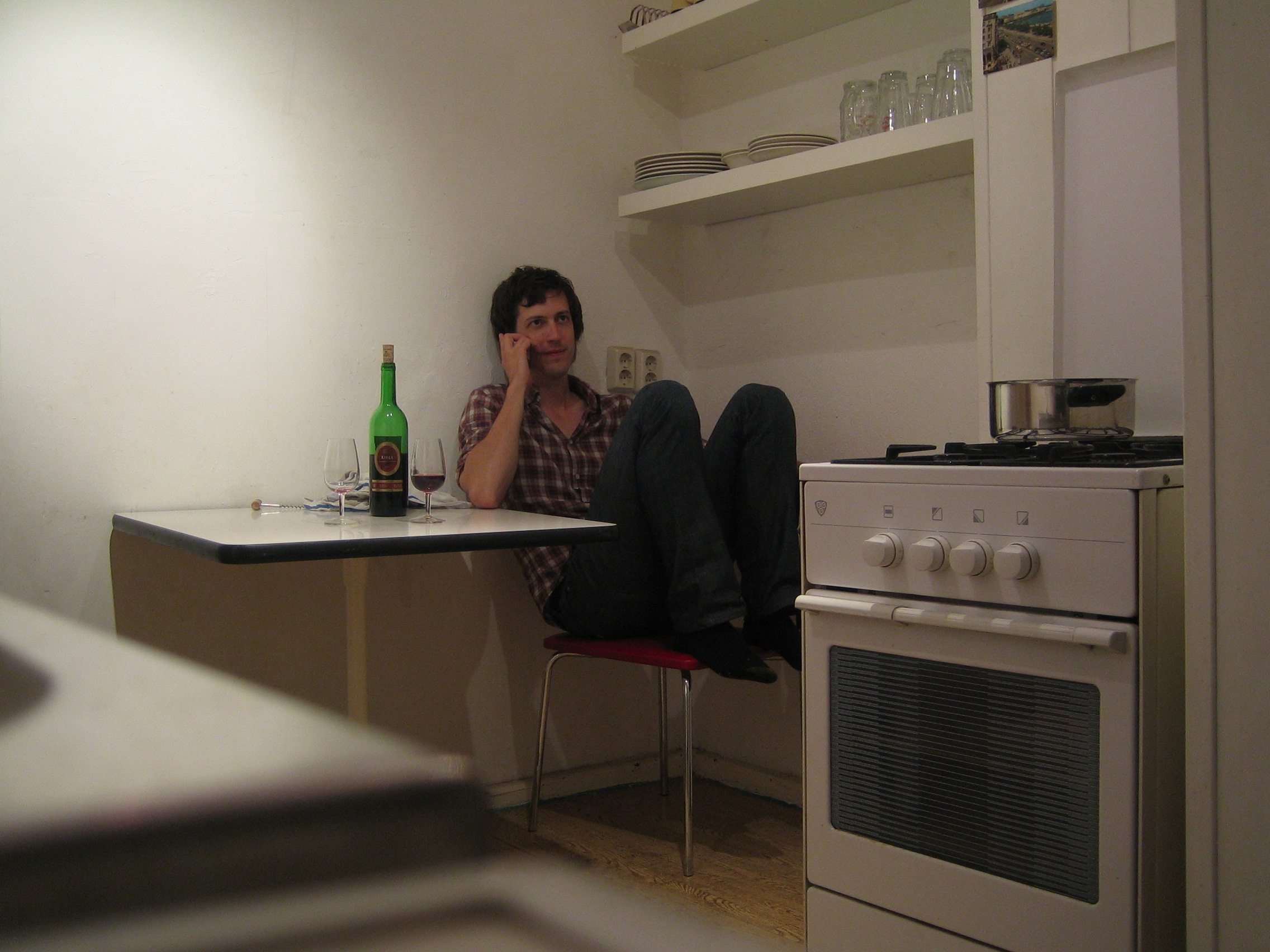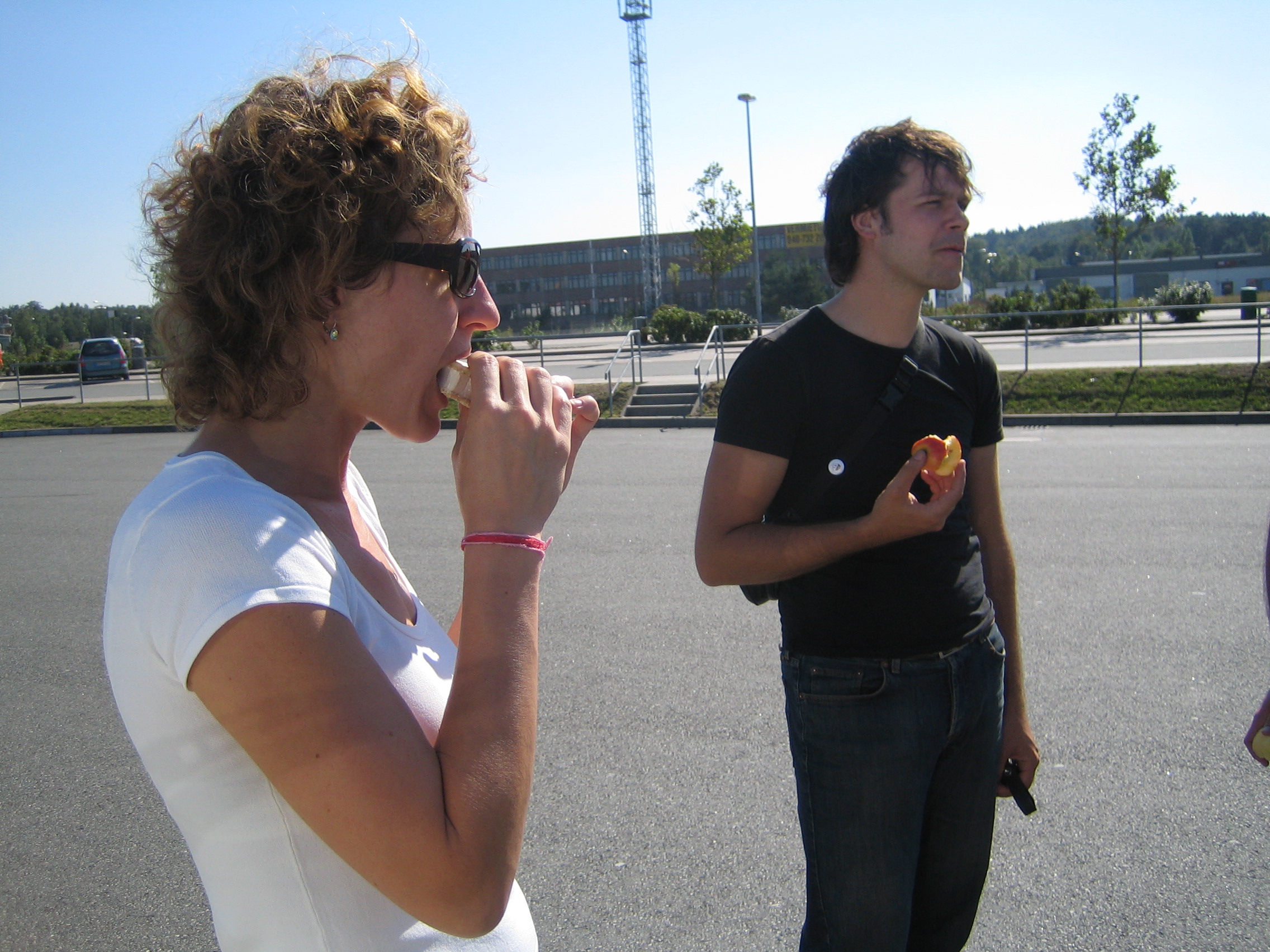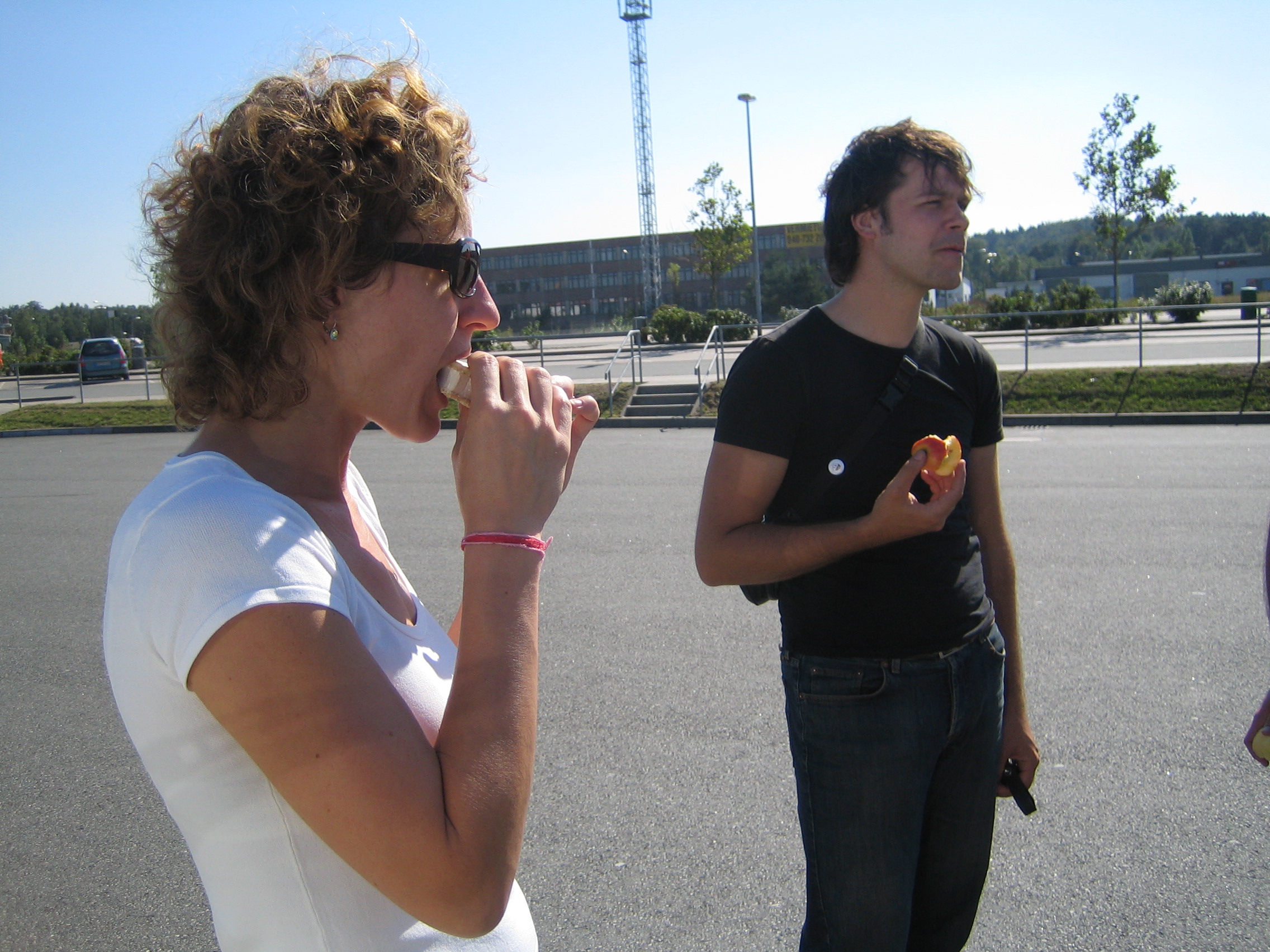 09/05 HAMBURG, D Dieter, come over here … there's someone I want you to meet.
Set Free was released in Europe & the UK today. Chrissie from Morr Music met us in Hamburg with a carton of cds, vinyl, posters, t-shirts & stickers.
"Where are your buttons? You don't have buttons?"
Yeah, we forgot the buttons. Sometimes when I spend a year of my life slumped over a mixing board, going crazy making a record and an ep … sometimes that makes me space the buttons. We have this new album that's almost as good though. Peep this.
My personal-space radius definitely lost something in the conversion to centimeters. This german Wesley Willis type got me in a full body "I loved the show" bear-hug that transitioned right into a "I used to play with Capitan Beefheart" headlock.
"Have you ever met Dieter from the Go Find? You should really meet him. Dieter?!?!" Good-cop/Bad-cop, Dieter. Good-cop/Bad-cop.
09/06 BERLIN, D Tiger Woods, Y'all
This was our first time at The Magnet, and it was definitely our best show in Berlin. The Morr Music office is in Berlin as well, so we had the opportunity to see Thomas and the Morr crew. Chrissie was there and Jens too.
In the backroom we saw some "Death Cab is Homesick" grafitti, and it allowed me to be ever so briefly re-burnt up about Wall Of Sound refusing to support us on that tour last year. So if anyone is interested, I'll run down the latest chapter in this sad epic:
They did give back Know By Heart (which was nice), but they kept Promise Of Love because it's really better for the record if it remains unmarketed and unheard but kept safe in a cool dark corner in the WOS office. In a closet. With a life-sized color photo of Mark Jones on the door. Shrugging his shoulders, palms turned up, with a white thought-bubble that just reads, "OOPS!" Plus … they got it from us fair and square, right?
So life goes on and we're smarter from the experience. Speaking of … in the interest of education, I sent them an e-mail a few weeks ago with a jpeg of the DCFC Spin cover.
"Hey, y'all … hope you're well. This is the band you didn't want us touring with because you hadn't heard of them. I don't know if you've heard of Spin magazine or not. It's a popular zine here in the states. I really wish you had trusted us on this one because that tour would've done wonders for a band like us. But honestly, artists on the cover of Spin ask us to tour with them all the time, so don't feel like you wasted an opportunity for us or anything. It's all good, y'all."
09/07 DRESDEN D Shindler's List
The drive was short today so we got to have breakfast with the Go Find and Morr Music before we wandered off in search of stamps, tape, and the various electrical accessories that touring always creates a need for.
Remembering our last visit here makes me really appreciate having a cell phone this time. It's expensive, for sure, but just a little bit here and there definitely makes the distance not so hard on the heart.
The Star Club is huge, but we've always had a good time playing there. They always make you a pretty slammin' meal, too. We're batting three-for-three on equipment failures though. One of the amplifiers we rented was nonfunctional and this was obvious on the first night. The bass amp we rented lasted for one show and then shit the bed in Berlin. The power converter we rented to run the 110V gear we flew over made it through sound check, but went south just before our set. It's a shaky house of cards at this point because we're out of back-ups and we really do need ALL the instruments to make the tour happen. We were so impressed with the guy that rented us our equipment because he was so concerned about which back-ups we were taking. Now we know it was his way so saying, "Yeah … some of them shits ain't gon make it."
We also go to meet Sebastian Shindler who wrote the website a few weeks ago to let me know that we'd need to put him on the guest list for the show in Dresden. Why? [I'm a curious guy] "Why? Because it could be six or seven Euros and I may want a beer after the performance." OK. Amazing. Sebastian Shindler +1.
09/08 COLOGNE, D Spillsbury wear underwear with dickholes in 'em
We arrived a few hours early and explored the city a bit. We'd never been to Cologne before, so it was nice to have a few hours off. Even if we spent most of it looking for a legal place to park and a decent cup of coffee. We found both, so … The club was in a slightly sketchy alley between two abandoned looking buildings. A little dark. Super hot. But we had nice rooms just down the street so we toughed it out and played pretty well I think. Smaller shows have an "anything goes" feel sometimes, so I played "Churchmouse" for fun. It may've been my favorite song tonight.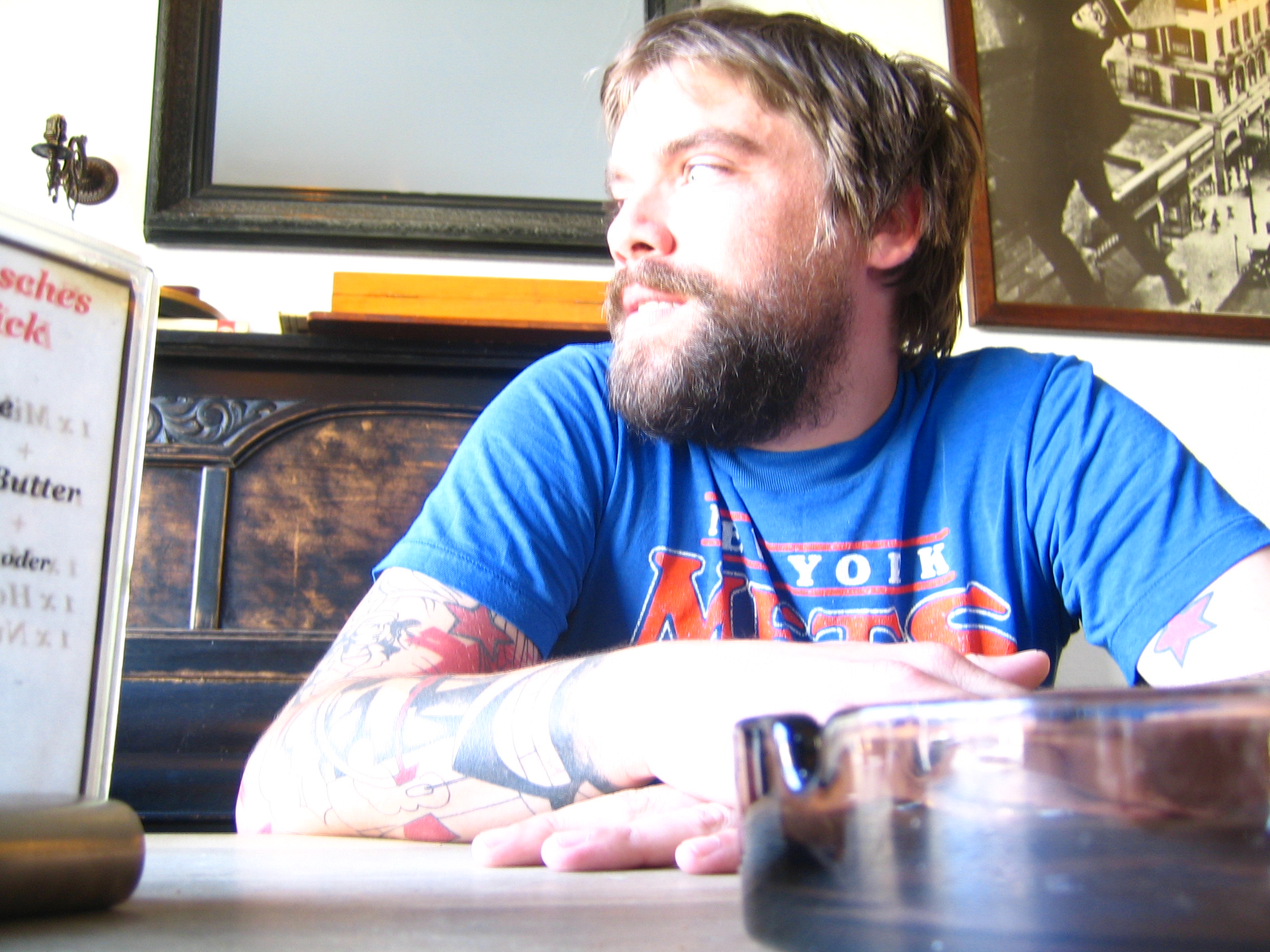 The highlight was probably an interview we had with the two Christians from Intro magazine. Every month their magazine features artists evaluating new releases from other artists, and we were chosen to be among the reviewers this month. We listened to 15 cds on a jam box in the alley. Apart from a few obvious thumbs up like Broadcast, Songs of Green Pheasant, and Broken Social Scene, there weren't many winners. We foolishly blew our meager collection of constructive criticisms on the first disc and the subsequent evaluations spiraled into the Chapelle Show's Player Haters Ball territory.
09/09 AMSTERDAM, NL Raise High The Roof Beam, Dope Smokers + Van Swap part 1

This was definitely our best show in Amsterdam. We really like the Paradiso. We've been there enough that Amsterdam means seeing friends, and that always makes for a good night. We also got to revisit our gear provider and exchange our nonfunctional amps, cabinets, and transformers for ones that hadn't broken down or caught fire recently. When gear doesn't catch fire that always makes for a good night. I made a little small talk with the gear man, Doode, outside his office. I kicked the tires of another van he was unloading and commented that they were in good shape. [I'm really bad at small talk, by the way] Doode thinks we've got van-envy, though, and insists that we come back the next morning and swap our van for one with better tires.
"No … really … we have a busy day tomorrow. Our van is fine."
"OK … so you come in the early morning and we switch them out."
"We have to drive a long way [lie] and I have an interview in the morning [lie] and we're staying out of town a ways …" [I'm also really bad at lying ... lying and small talk]
"OK then … see you at half past nine then."
"Mmm hmm … right … OK."
I'm in the back of the room at the end of the night selling records and I'm mildly aware of some activity behind me but I can't turn around because I'm selling records. Mind on the money, money on the mind and all that. Not friend-friend but totally cool. Then a wave of bass rolls through me and sends my shirt cracking like a flag in march and THAT gets my attention. So I turn around to see a wall … a WALL 10 feet high and 12 feet wide made of PA cabinets erected a few feet away from me. And I turn around juuuust in time to see the Bob Marley banner roll down the front in preparation for the reggae dub dance party about to unleash itself upon me. And scene…
09/10 BRUSSELS, B We don't need another hero

The drive to Brussels was short but featured our first quality euro-motorway traffic jam this trip.
I can't remember the last time I saw Adam Wiltzie. He lived in Ausitn for a long time before he moved to Brussells. He took us on a short tour of his neighborhood's pubs, favorite beers, and "these monks make this beer and these other monks make this other beer" and so on. Craig and I went crazy for a few of Belgium's finest Trappist creations. but Adam says he'd give up his favorite pub for a decent tex-mex restaurant on his block. The grass is always greener I suppose.
I did get a face full of drunk asshole late in the game. Trying to throw a Mel Gibson on my Tina Turner and talk me out of a discounted t-shirt, but I was in too good a mood to go for the whole "I'll be a drunk asshole and this skinny American will give me what I want" routine. The whole affair … Forgetting how to speak English halfway through. Dropping a fist full of coins on the table and watching me herd the strays then count all the 5 cent and 10 cent pieces in front of him, all the while shouting, "give me medium!!!" over and over. Then the "I'm disgusted" motorboat noise. You know what I'm talking about. Soup to nuts. Who run bartertown, asshole?
09/11 COLMAR, F Skipped French 101

This was a crazy-long drive day, and finding the venue was a bit of a nightmare. The pages in our tourbook have less and less information as the tour progresses. The last day just says, "Frankfurt … in Germany … venue, load-in, accommodations TBA." We drove around the neighborhood for nearly an hour jumping curbs and cutting across dirt lots like GTA: Colmar or something.
The Go Find found the venue just after we did and expedited our arrival and sound check with an impressive bit of French. Go Dieter. Shows in towns this small are always a little surreal or at least unusual. "Oh that guy? With his shirt off? Don't worry about that guy with his shirt off. Don't provoke him though." The DJ spun 7″s all night, including three expertly placed spins of "Wild Thing" by the Troggs.
We did learn a little French, however, at the hotel:
"Here are your room keys. There's a great bar next door and tonight only there's a sexy karaoke strip show. You should not miss this. Cool Crowd. Very risque."
translates as
"Here are your room keys. There's a dank tourist trap bar owned by the hotel and every night the owner's wife parades around in a bra to entice you into buying 5-Euro Heinekens but never actually takes anything off. This will deprive you of valuable sleep time. Local thugs will mad-dog you and try to hit on the girls you're with. Very risky."
I went straight upstairs and called my girlfriend of course, so …
09/13 LONDON, GB OK … the guy caught cancer … now I'M the asshole, right? RIGHT??

OK allow me to just skip straight to the quick of it and Seann William Scott Rundown what an amazing fiasco this was, and wasn't. This whole week was set aside for the UK back in May and as of September, 1st (2 days before we fly over) only one UK show is confirmed and the UK promoter is "working on" another. The local agent is a guy named Jon and his company is called CNL. We had run-ins with this joker before, but it's never been quite this bad. Nobody in our camp has heard from him in weeks. So all we have are names. Water Rats & contact: Steven. Second show? Never existed. Work permits? (you need these real bad) Never arranged. Map? Directions? Never sent. Accommodations? Glad we have friends. We assumed the show was cancelled until someone wrote the website and asked if we were coming because they already had tickets (Thanks, Laura). We figured that we'd better look into this.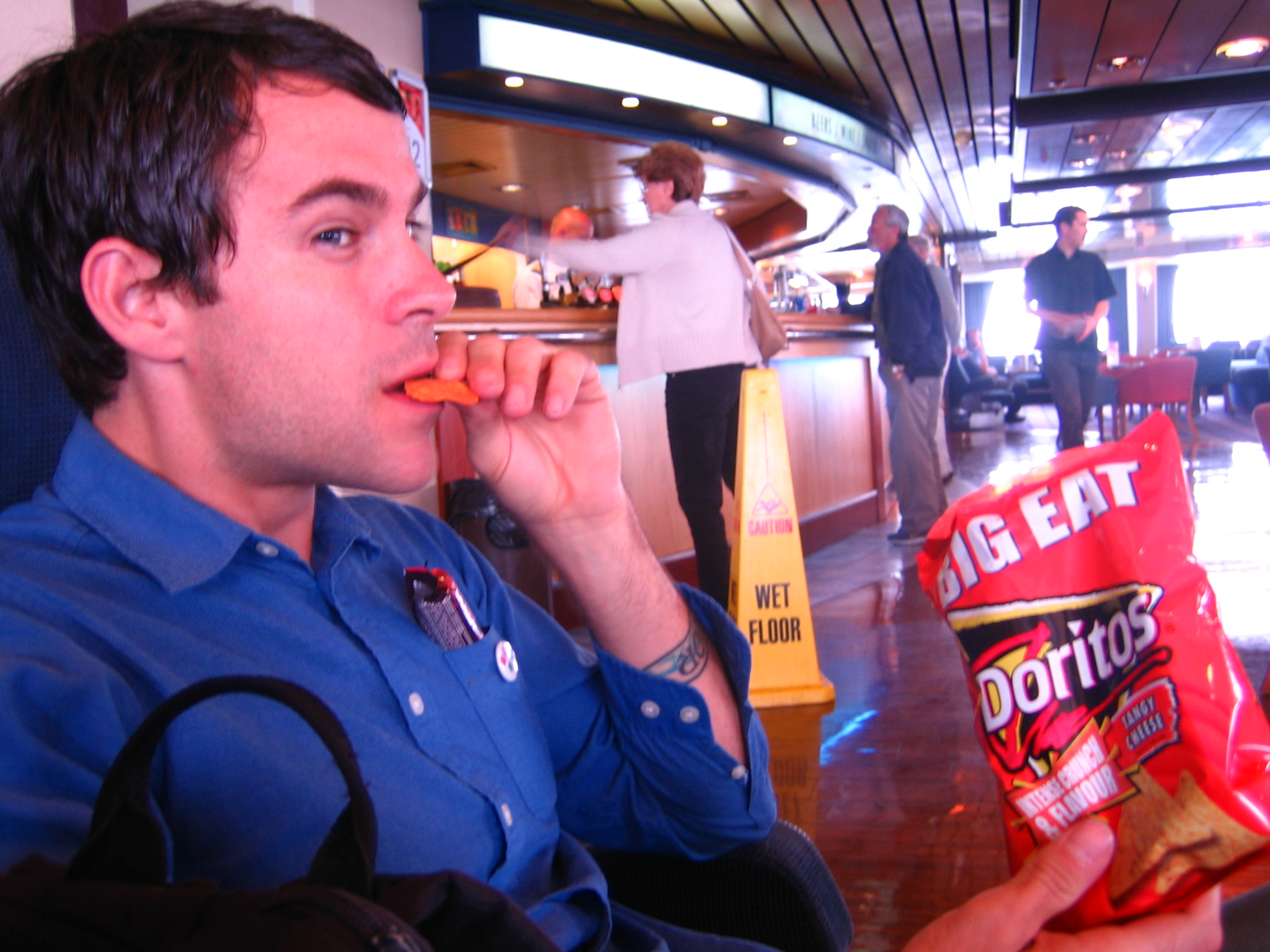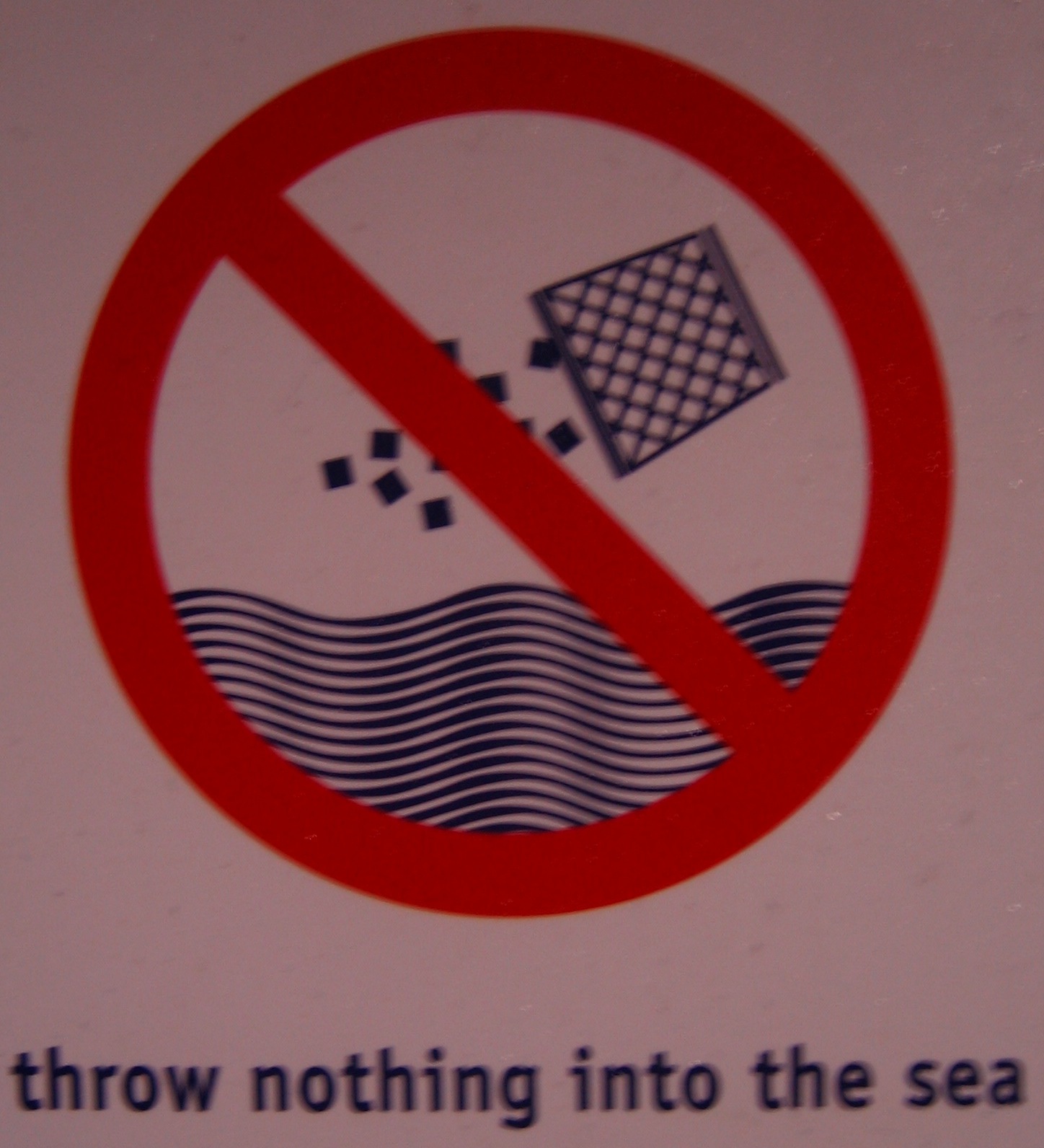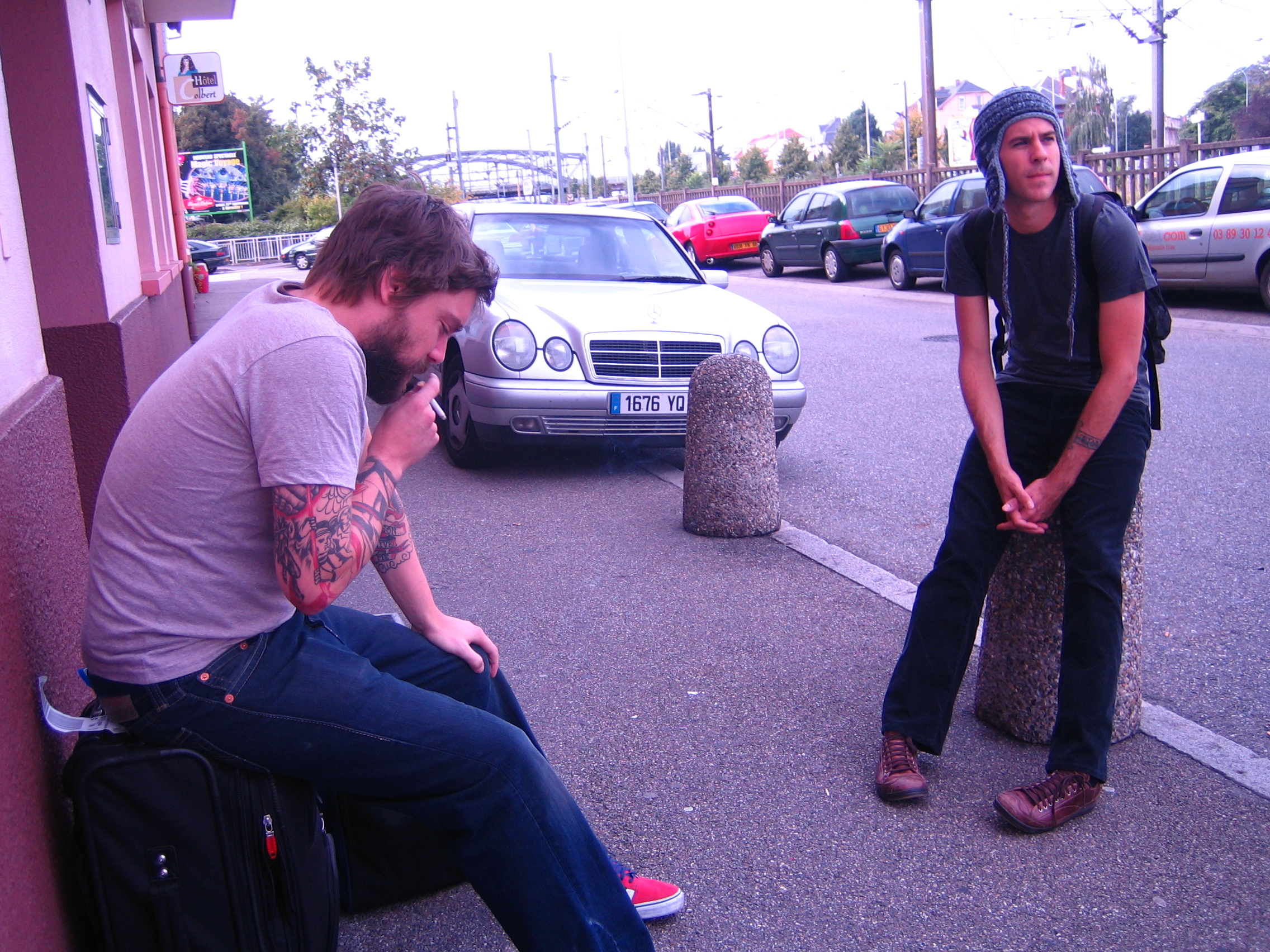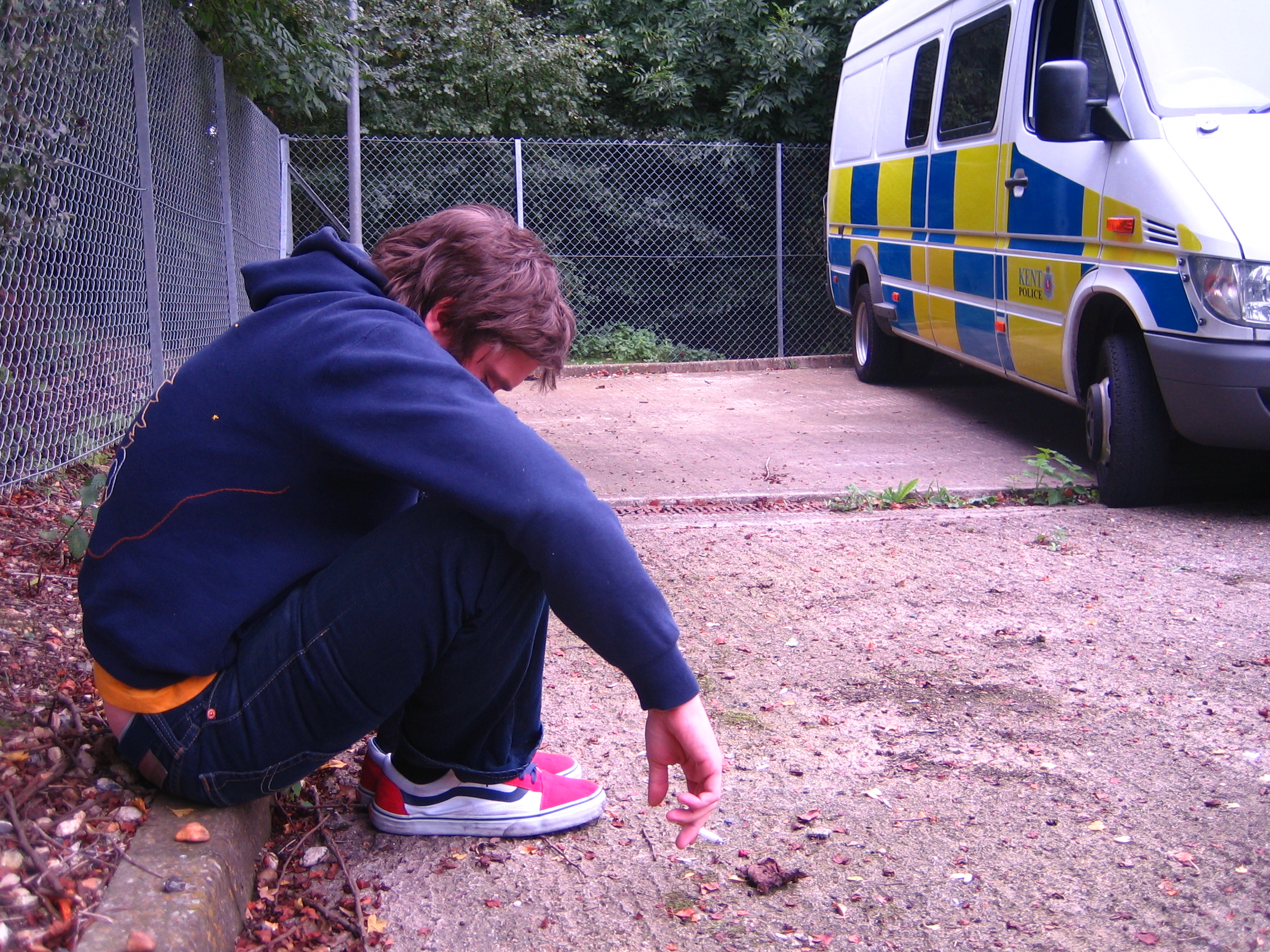 So on Monday, we made for the ferry in Calais and then on to London. The following morning we tracked down Steven and found the address for Water Rats. Steven turns out to be Steven Drew from Track & Field who more or less took it upon himself to make this show happen in the absence of any information from Jonny. He did an awesome job (Thanks, Steven). The show went off pretty well, actually. We got to see Matt Dornan and he had the latest issue of Comes With A Smile on him for our reading pleasure. Charles and Elizabeth (not them … the other ones). The AC30 club guys. Paul Akroyd. Still … I can't wait for Jon to come looking for his 15%. That's gonna destroy.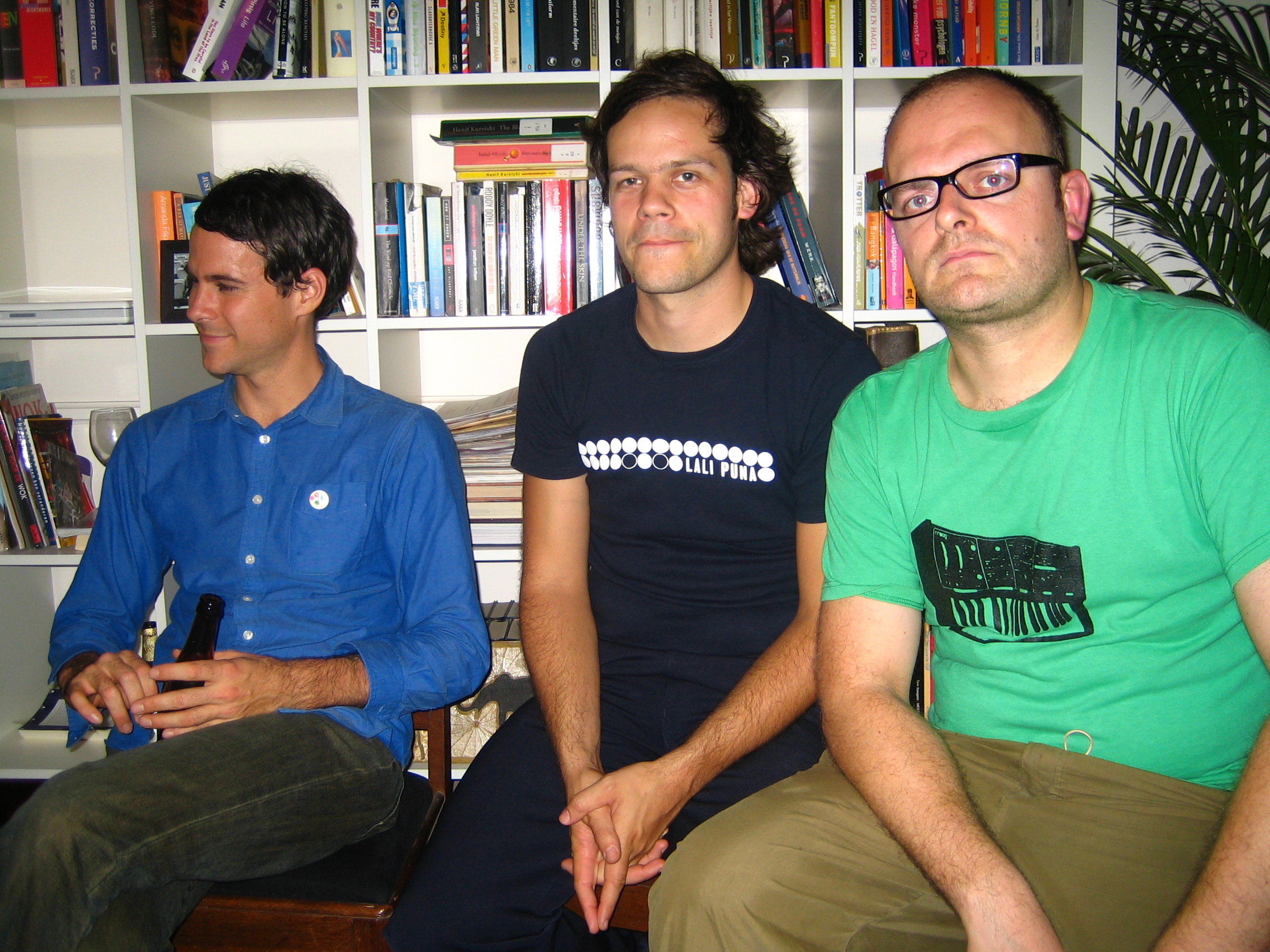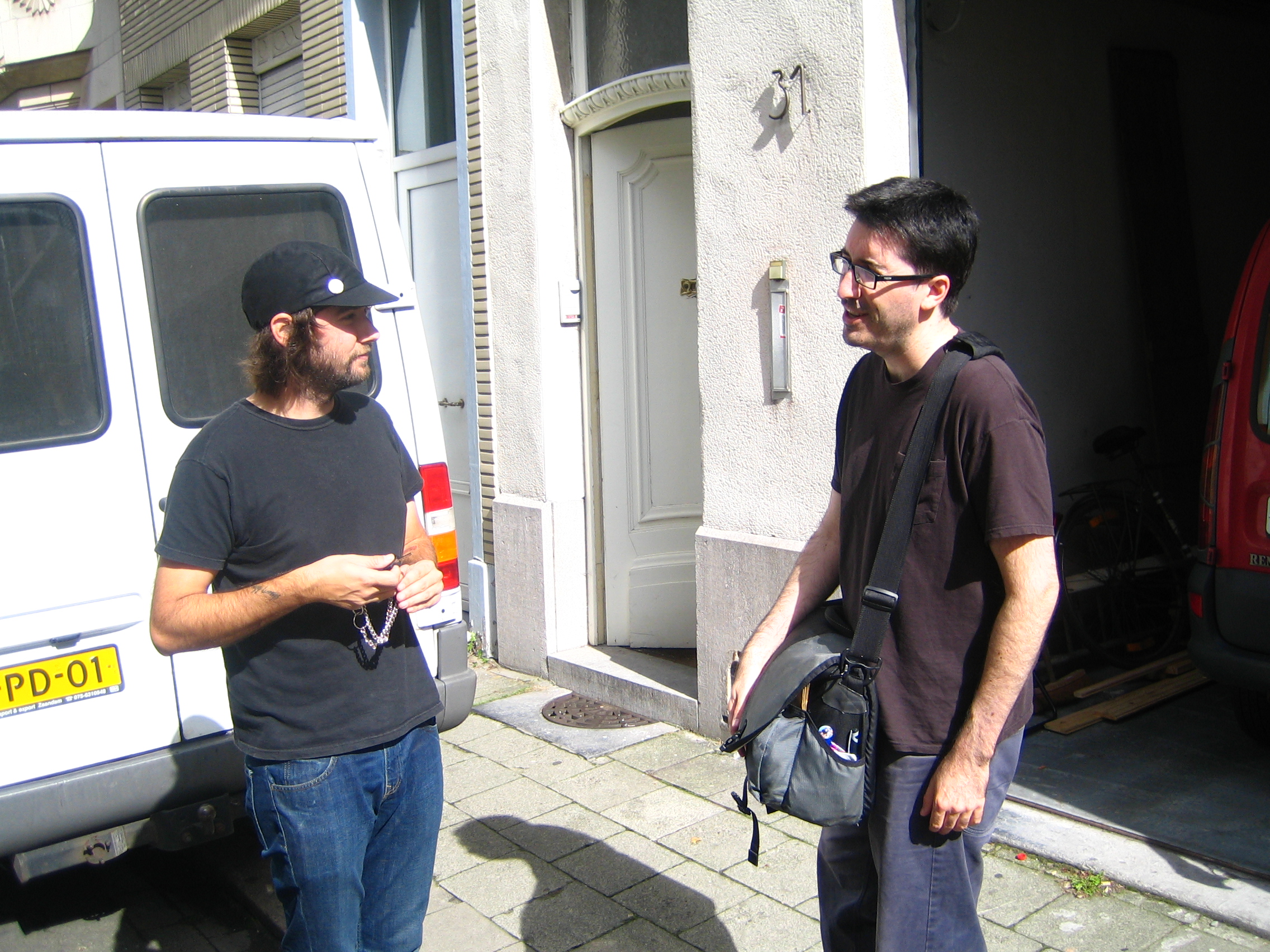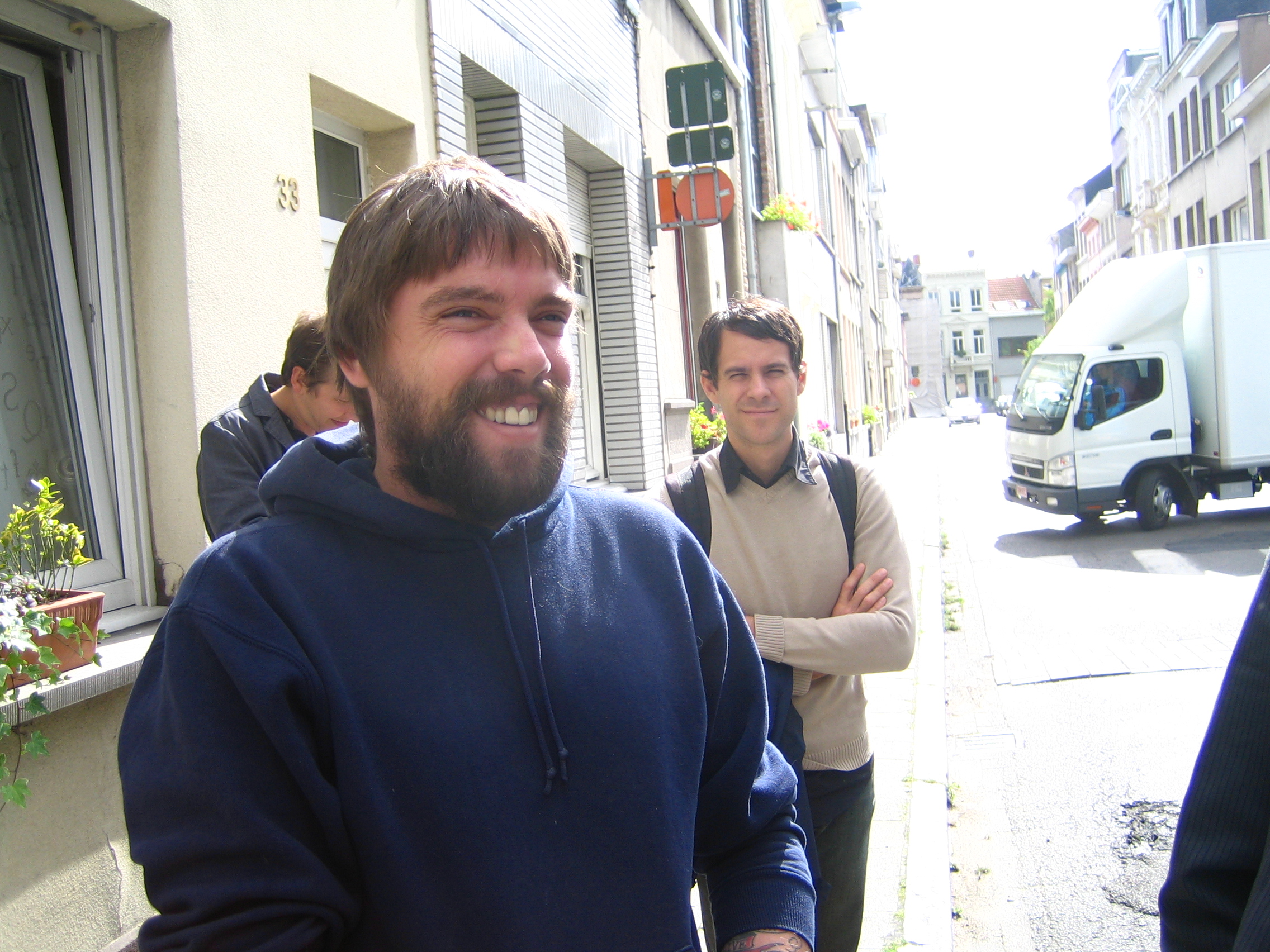 09/14 – 09/15 BRUSSELS, B (again) 220 … 221 … whatever it takes
After returning from London via Dover via Calais via a fierce traffic jam again, we spent the night off in Antwerpen with Go Find Dieter.
Calling Dieter: "D, yo … what does ONGEVAL mean? We're in fierce traffic and the sign says that there's an ONGEVAL in the tunnel ahead. Does it mean sandwich cart? Because we're starving."
"No … that means accident … there's an accident in the tunnel ahead."
"OK that makes more sense … we'll keep our eyes peeled for the brodjes."
On Thursday we drove down to Brussells to record three songs for a radio program called "Duyster." I always say this is the last one. There's something really special about our queer-ass little band that just doesn't come across on radio. It's like a vampire looking in the mirror. There's just got to be something more than just a black cloak floating there in that ornate mirror frame. On radio … you just get the cloak.
And to the bargain, one of the on-hand studio guys bypassed our 110v/220v converter and plugged my beloved lil' Roland Space Echo 150 right into the 220v power strip. Of course the poor echo box gives up immediately and won't power up again. And when I ask the guy, "Er … did you plug this obviously weird looking US plug into the 220 power and fry my space echo?" he looked at me and nodded, but it wasn't at all apologetically. It was more like, "Sure … no problem … We took care of that for you. The ruining of your delay unit? You don't have to worry about that. You're a guest here."
It turns out that our power transformers weren't grounded properly and it's against studio policy to operate equipment that isn't grounded. That would be unsafe. Operating 110volt gear at 220v? That's OK. Skirting a ground? Hey … there are lines the government won't allow us to cross.
09/16 LEFFINGE, BL When the hand goes up … the mouth goes shut.
Leffinge is a tiny coastal town near Ostende [sing to self, "Ost ... end ... girls] in far west Flanders Belgium. They have a small music festival there called Leffinge Lauren which translates as, "stumbling drunk with pimples and braces." There were so many wasted teenagers wandering around that you could barely see the drunk adults … at first. We played on the 2nd stage which was inside a venue called Zaal Zwerver.
Mark and I were a few minutes into setting up the merch table when a crowd of Leffingers too drunk to understand De La Soul in the main tent began pouring into the Zwerver. So to properly tell this story, I should first introduce the cast of characters. Me [hi], Mark, a room full of drunk festival goers, a security team, and a matched pair of meathead hooligan fucks. Ok … so I'm helping Mark hang a poster and a shirt on the wall [to be fair ... supervising] and I turn around just in time to see Meathead Hooligan #1 stealing our roll of duct tape off the table and walking away really slowly. So I shout, "HEY!!" and he doesn't turn around. Security? No reaction. Certainly Meathead Hooligan #1 had other things on his mind. But at this point I DID take notice of Meathead Hooligan Fuck #2, who erected himself, arms crossed, between me and his mate. He didn't say anything at all. He just stood there mad-dogging me. Then he tightened up his arms like, "Please do something I can clobber you for … I'm drunk and De La were less than satisfying." Fuck … I don't even wanna know what you want that tape for.
The caterers threw a real-deal fresh made Belgian waffle at us though. And it … was … amazing.
Show-wise, this may've been the best WORST show we've ever played. All the pounding fists on stage, distracting (way intentional) off-time clapping, screaming, "YOU!! MAN!! YOU!! … COSY MOZZY!! … COSY MOZZY!! MAKE US DANCE!! YOU!! PLAY THE CHORDS!!," trying to get our attention while we were playing. And we played so so very far below the din created by the drunk festival folk. I felt like a camp counselor on the first day of summer camp. I could've been screaming through a bullhorn trying to get their attention and we could've played our best show ever. It wouldn't have mattered. We all knew it too. So we just laughed it off and smiled at one another between the songs that we steered ever slower and quieter.
"Cause it's underhanded"
[I wonder if the waffle people are still serving?]

"You never feel it"
[It looked like they were kinda closing down]

"You never look back"
[Maybe they were just cleaning up]

"You never look back"
[It couldn't hurt to walk over there i guess ... it's not going to kill me ... those waffles are out of control ... and maybe I'll see one of those meatheads and I can get after his spine with a box cutter now that everyone is too drunk to notice]
Cosy Mozzy was the DJ that spun after us, by the way. Forgot to mention that.
09/17 MUNICH, D That's Entertainment
The drive was hell of long today. The longest of the tour by far and we barely made it to Munich in time to play. The 11 hour drive made everyone in both bands a little stir crazy and for that or some other reason, we played great and really enjoyed ourselves. The Go Find were outstanding this night. This was our fourth time in Munich and the promoter, Ivi, took good care of us despite our lateness.
The show was a no-stage, people up in your face kind of affair that I love [for serious]. A house party is the most honest way you'll every experience a band and I always get excited when we get the opportunity to play for people that way. There are times that I'm especially proud our little band.
And then, of course, the beat starts and the dance party erupts. Ladies and Gentlemen … COSY MOZZY!!!
09/18 SCHORNDORF, D On Golf + It's a choke hold
On a scale of crowd noise that goes from 0 (practice space) to 100 (Leffinge), the crowd in Schorndorf was a tasty 7 on the Leffinge scale. Seven Leffinges. Very quiet … but not uncomfortably quiet. We had a really good time playing. A natural-disaster-caliber traffic-jam kept us from making soundcheck, so the monitors were a bit squirrelly. They were probably loud enough, but Sean's and mine were switched so we got plenty of each other all night. Bri-Bri's First Law prohibited me from bitching about this mid set, of course.
*Bri-Bri's First Law states: Don't complain about the monitors in the middle of a show lest you receive a Taz-mission.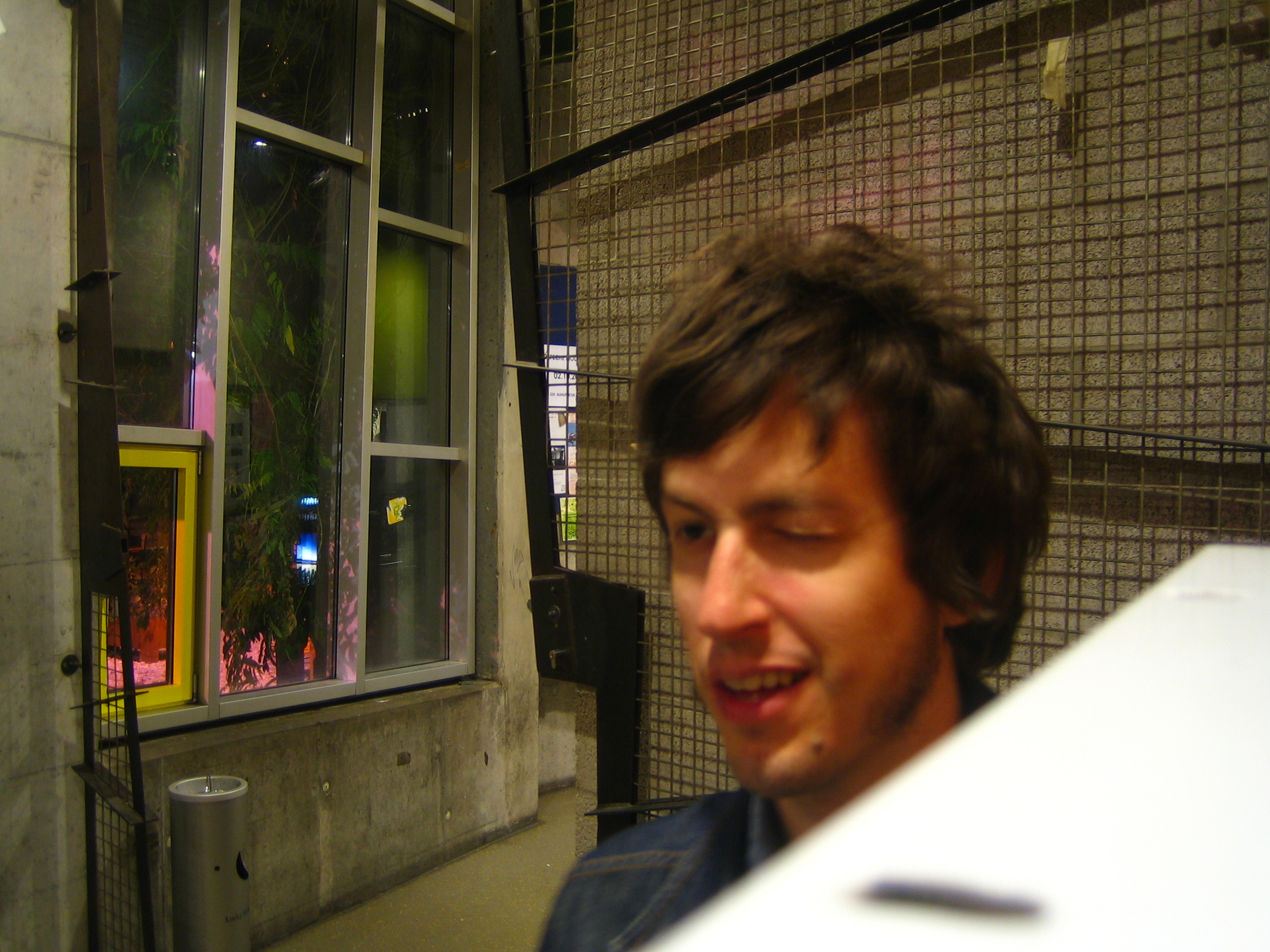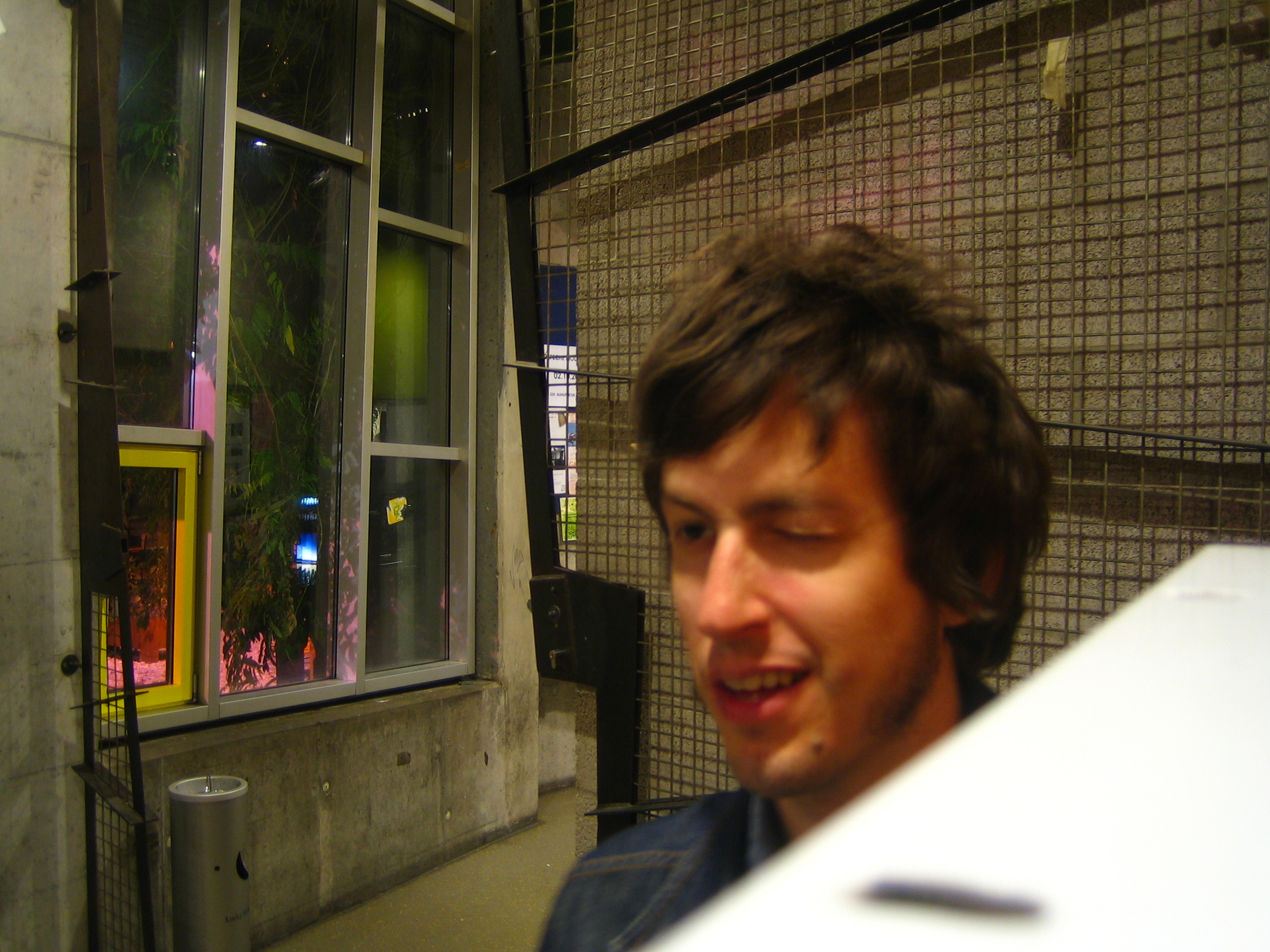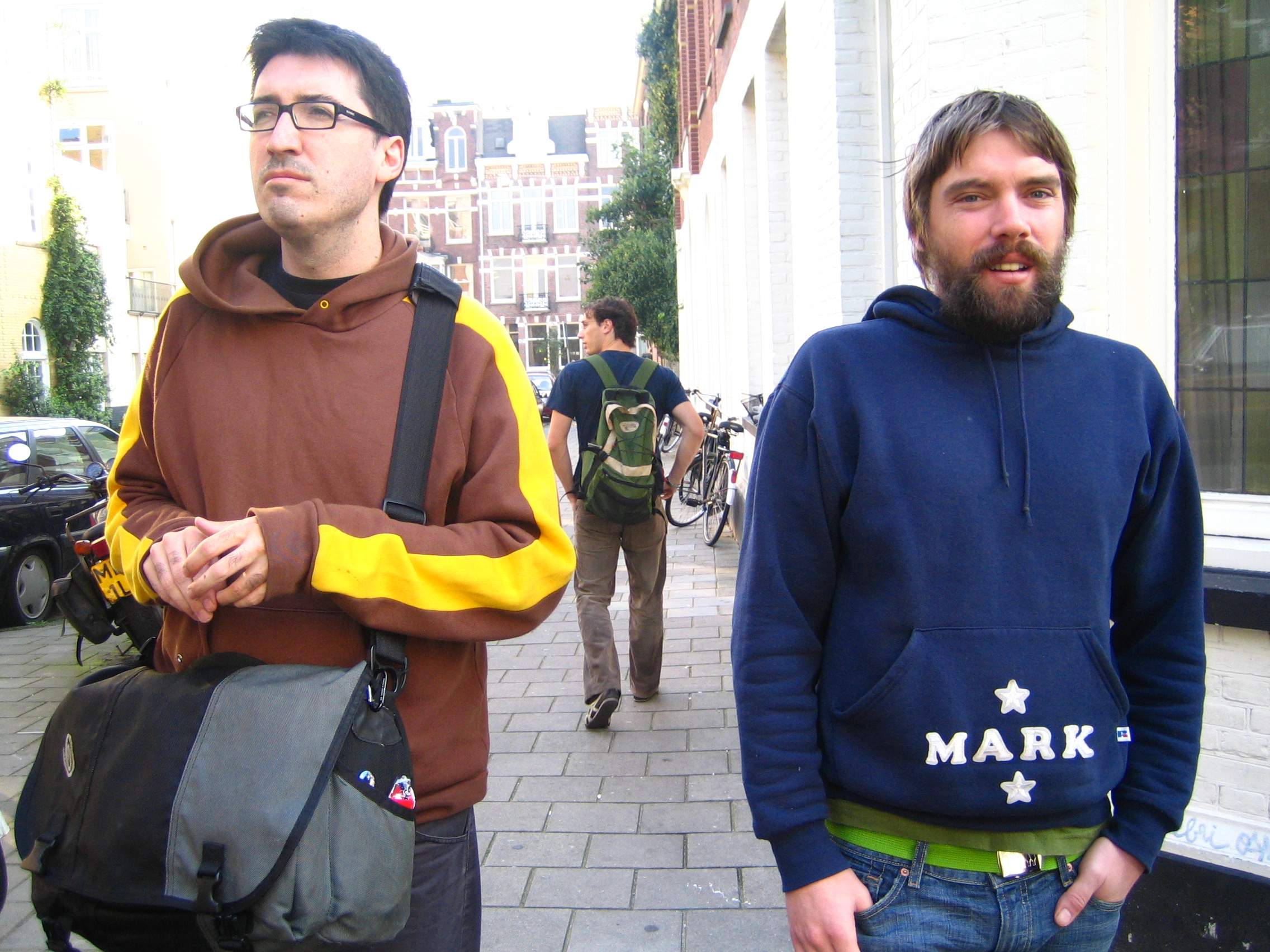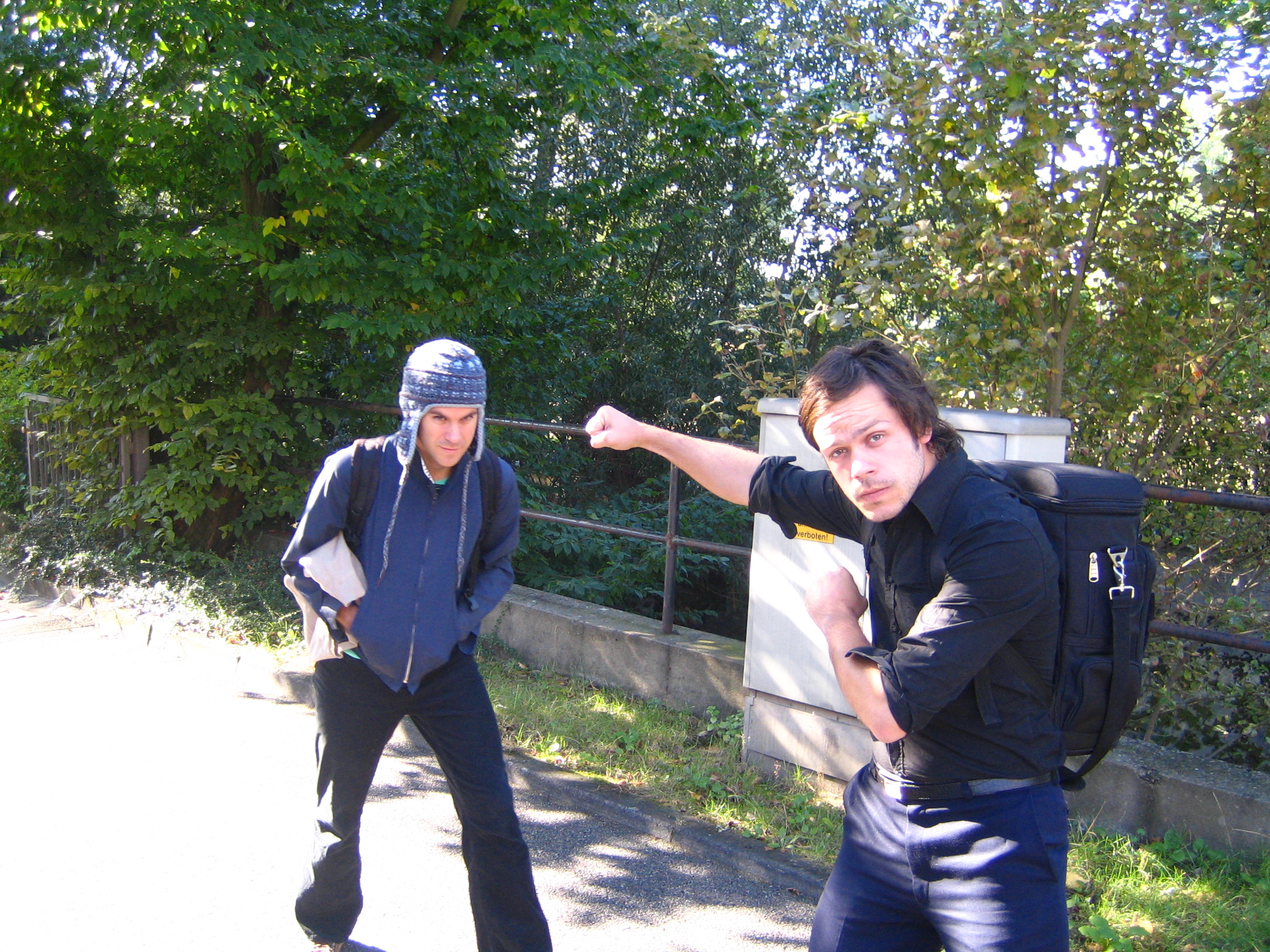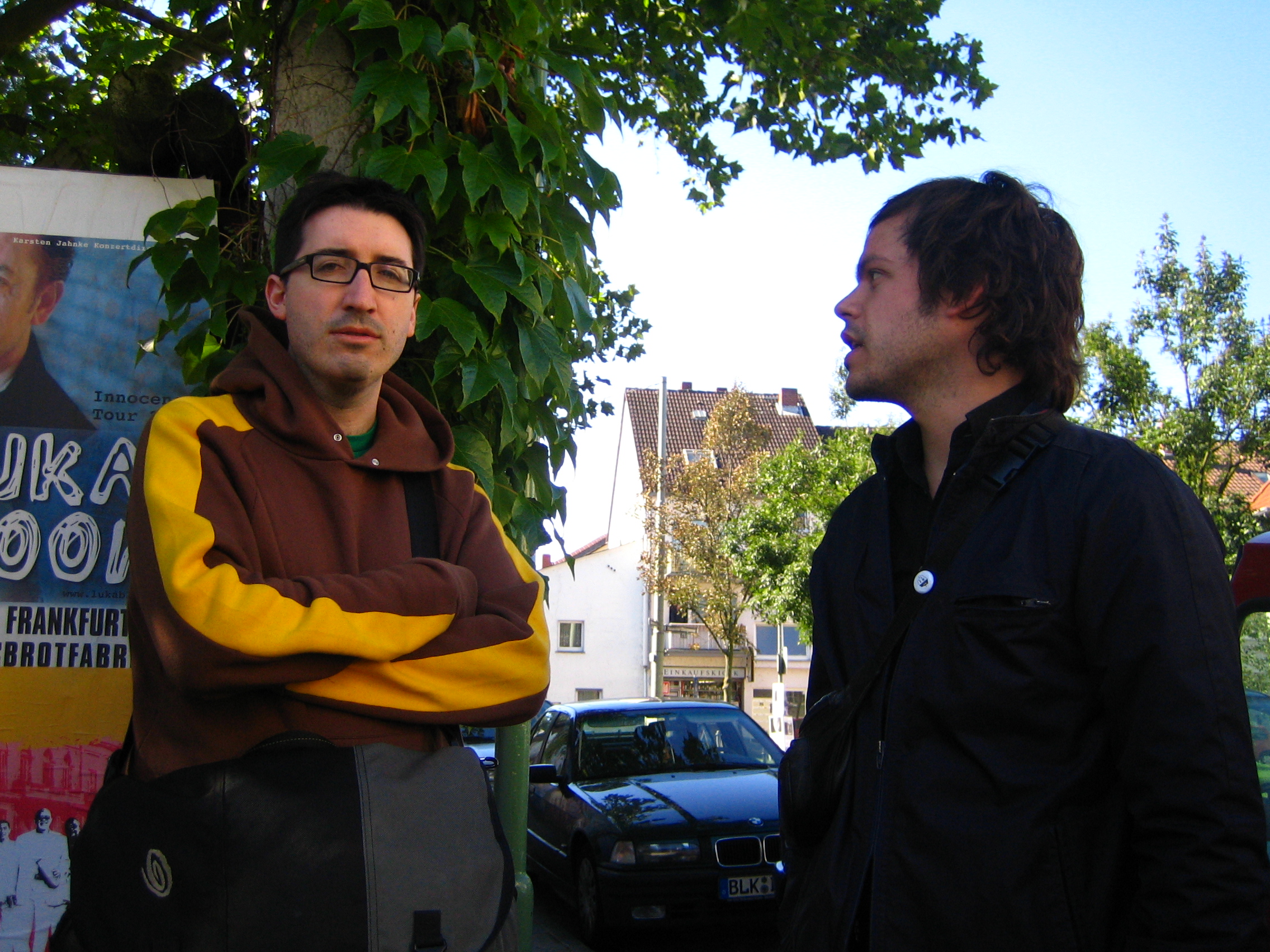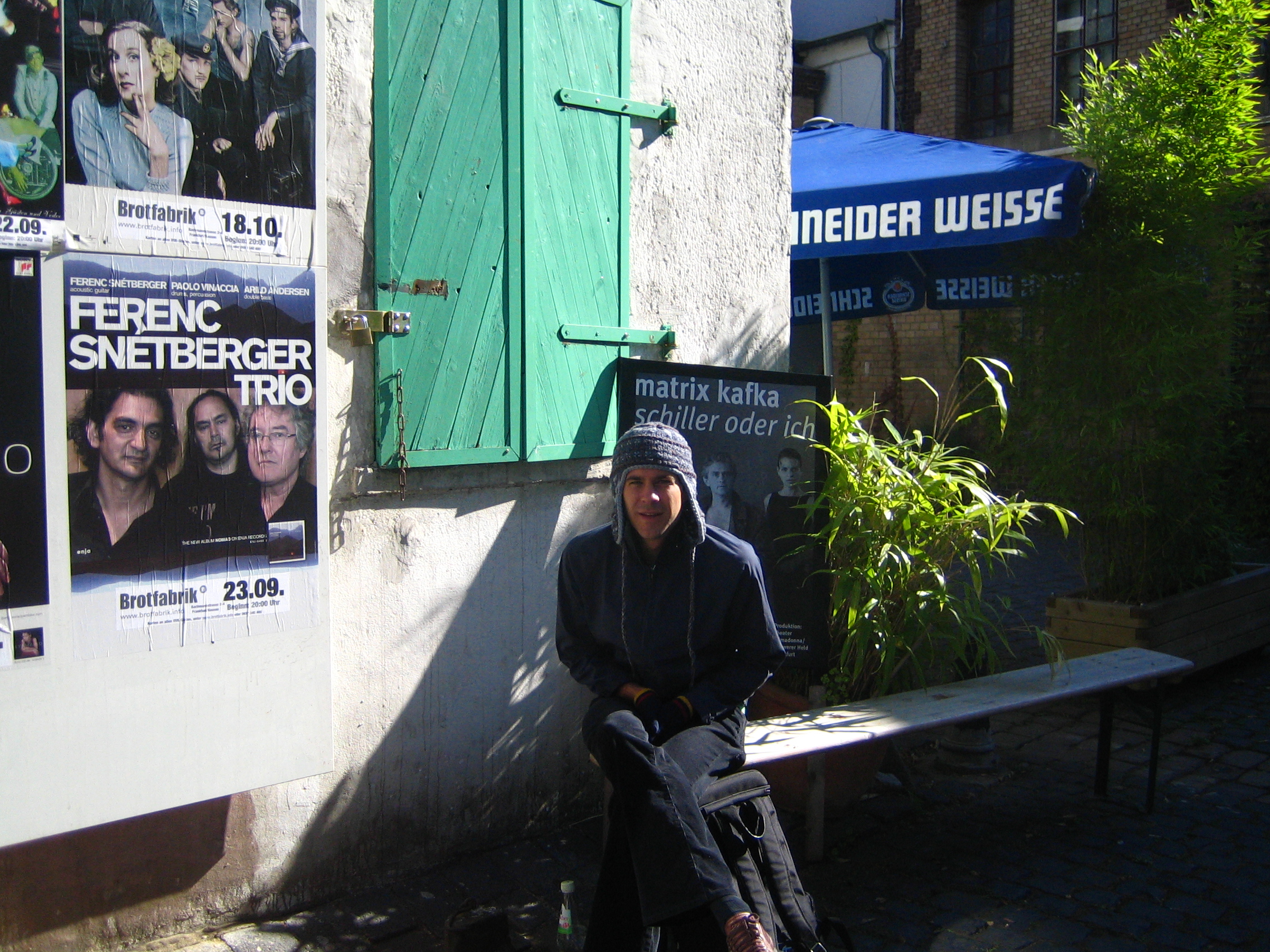 09/19 FRANKFURT, D
No Tic-Tac strong enough

After a few days without a soundcheck, we were a few hours early to the Brotfabrik in Frankfurt. It was a good day to be early, too, because we got to spend a few extra hours with The Go Find before parting ways the following day. The Go Find pre-show hug, the bro down before the ho-down, was finally caught on film for the sake of document. There are a lot of vinyl enthusiasts in Frankfurt and we sold a grip of tour EPs. One of these days, it's not going to feel weird to sign somebody's record. Today wasn't that day though.
And now the journey home begins. We drive back to Amsterdam and drop off the gear, and settle invoices etc. This is always my favorite part of the tour, because you get to interact with all the people that make more money off your tour than you do. It's incredible really. Flights, merchandise, van rentals, gear rentals, agents' fees. I used to wonder if they knew, but I don't anymore. Do they think my breath smells like Alpo because I like eating dog food, or do they make the connection that it's all I can afford. I'm kidding of course. It's not my favorite part of the tour. Well if it was all about making money in the industry of music, we shouldn't have started a band. Ha.
Oh … and here's part two of the Doode Van Swap story. The day after we traded vans on a whim, a tie-rod on the front left wheel of our old van gave out, causing the wheel to wobble at first, then blow out violently, snap off the axel, and lodge itself sideways in the wheel well. The van skidded to a halt throwing sparks and rubber smoke, leaving Doode on the side of the road with a busted, undrivable three-wheeler. In central Amsterdam, at bike-friendly speeds, this was merely a huge hassle. At 110kph on a crowded motorway with a van full of heavy equipment and coffee-deprived rock jerks, this would've been the first part of a really shitty story that we would've never known the end of. I could rant about karma here, but what say I just fly on home and sit in a dark and quiet room with the someone who would have missed me and I can think about it on my own.
See y'all in Japan!